Sunday Morning Services
Please join us on Sunday mornings for services at 10:00. There is a different speaker each week.
May 6 - Bob Worner - Learning to Speak Unitaraian
May 13 - Rev Wesley Hromatko
May 20 - Dr. Wayne Barkhouse - Whispers in the Night: Using Gravitational Waves to Unveil the Universe
May 27 - Me Too - Organized by Sandy Barnhouse and Robbyn Navatto
June 3 - Stephanie Sanderson - Shall We Pray?
June 10 - Rev. Stefan Jonassen - How Much False Witness Can We Bear?
June 17 - Rev. Roger Parks - In Search of OUr Light
June 24 - Rev. Laurel Hallman - I Have Walked Through Many Lives
July 1 - Peggy Maxwell
July 8 - Bob Worner - The Beginning and the End
July 15 - Chris Hyslop - Do Two Rights Make a Wrong?
July 22 - Ellen Eastby - General Assembly
July 29 - Jim Laine - MetaReligion: the Authority that Makes Religious Tolerance Possible
Sunday Morning Speakers
July 1 - Peggy Maxwell
Peggy is a long-time UCU member, who we welcome back each summer. She will share with us her insights from her trip to Bhutan with ZaChoeje Rinpoche, Director of a Tibetn Buddhist Cultural Center in Phoenix.
July 8 - Bob Worner - The Beginning and the End
Bob will be addressing UU Principle #7
July 15 - Chris Hyslop - Do Two Rights Make a Wrong?
My talk will look at the current situation in Myanmar, specifically the situation of the Rohingya people. Last October, following a series of concerted insurgent attacks on Myanmar police forces, the government launched a security operation resulting in around 800,000 people - the total population of Minneapolis/St Paul - fleeing to Bangladesh. They remain there in refugee camps. The situation has resulted in two dramatically different perspectives: the national population fearing terror attacks and supporting their leader and Noble Peace Prize laureate Aung Sang Su Kyi, the international community decrying human rights abuse and institutionalized discrimination. Both views hold truth, both communities have a stake and both are needed to resolve the problem. What happens when opposing perspectives are both right?
My wife Kate and daughter will sing a duet to "Tightrope". My daughter Ella will sing "Never Enough". Mary will accompany them on the piano.
Chris Hyslop grew up in Fergus Falls. He and his family spend their summers on Swan Lake. He has been working overseas since 1995, first as a US Peace Corps volunteer then a humanitarian aid worker in the former Soviet Union, the Balkans, Asia and Africa. For over ten years he has served in the United Nations in Iraq, New York, Sudan and now Myanmar (formerly Burma).
July 22 - Ellen Eastby
Ellen attended General Assembly put on by the Unitarian Universalist Association (UUA) in Kansas City June 20-24. She will speak about her experiences and what she learned while she was there.
July 29 - Jim Laine - MetaReligion: the Authority that Makes Religious Tolerance Possible
Drawing from the main argument of my book, MetaReligion: Religion and Power in World History ((University of California Press, 2014), I will argue that the idea of pluralism and religious tolerance that arose in the eighteenth century and is assumed by many people today, depends upon a taken for granted "meta-religion" that stands in for the sort of absolute authority that religions like Islam and Roman Catholicism once claimed.
Jim Laine is Arnold H. Lowe Professor of Religious Studies Department at Macalester College. He has spent his career teaching and writing about India and comparative religion, and has been especially interested in issues of religion and national identity, religion and empire, and the history of Hindu and Muslim encounters in South Asia. He has traveled and lived in India a dozen times since 1977.
He is the author of four books: Visions of God: Narratives of Theophany in the Mahabharata (Vienna, 1989); The Epic of Shivaji: Kavindra Paramananda's Sivabharata (Orient Longman, 2001); Shivaji: Hindu King in Islamic India (Oxford University Press, 2003); and Meta-Religion: Religion and Power in World History (University of California Press, 2014). His work on the Indian hero Shivaji caused major uproar in India , leading to a book ban and indictment, but he was exonerated by India's Supreme Court in 2010. During the summer of 2017, Laine directed an Institute on the challenges of teaching world religions for the National Endowment for the Humanities (NEH). The institute brought together thirty scholars from all over the United States to work on curriculum development in this area.
He studied at Harvard from 1974-84 and received his doctorate while working and living at Harvard's Center for the Study of World Religions. He has also done research in Austria, England, Japan and Bangladesh. He is married to Joy Laine, a professor of philosophy at Macalester College and Iyengar yoga teacher for the past forty years. They have four children.
Sunday Morning Adult RE
First Sunday of the month - 8:45 to 9:45 - Adult Religious Education
John Minge is leading a discussion from: A Good Time for the Truth: Race in Minnesota. The book consists of 16 or 17 essays written recently by people wit different racial/ethnic backgrounds with a strong connection to Minnesota, most live here. It challenges the assertion that we are as "nice" as we claim to be. "How can a place renowned for its hospitality and its progressive values have proven to be so profoundly inhospitable toward its people of color?"
Second Sunday of the month 8:45 to 9:45 - Ancient Religions - Sandy Barnhouse.
This year's curriculum will be two intertwined paths: (1) the study of ancient/extant religions in search f knowing whose philosophical origins included the love and worship of the Earth; was Earth worship present in Jainism, Mithraism, Zoroastrianism, the ancient religions of Egypt, Judea (Judaism), Persia, Afghanistan, and India (Hinduism)? and (2) a modern attempt to recreate a similar worship, by many people rediscovering the relationship between Earth, life, and spirit, as expressed through the ecofeminist movement of the late 20th century. This subject of learning reminds us that ancient earth religious recognition and celebrations lead us to the environmental justice awareness of today as we continue to honor and treasure our earth.
Every Sunday at 9:15 in Suite 300 - Mindfulness/Quaker Quiet Time Sitting- Led by Stan Carignan
"EVERBODY, JUST TAKE A DEEP BREATH AND CALM DOWN! We have all hear someone say this - it's as old as the trees. We all know it works. When we get excited and need to compose ourselves, the simple act of taking a few deep breaths has a soothing effect on our bodies and minds. Most people don't give it a second thought.
The fact is that many of us through our daily lives, live in a state of elevated tension and stress. In this state, we 'forget to breath.' We do actually breathe, but the stress breath is shorter and shallower. Most of us have lived so long like this that we don't realize that it is not our natural way of breathing. Many people discover how stressed they are when they begin sitting and simply breathing. It is a wonderful feeling to let go of all your stress each day. To let go of the petty hurts, jealousies, or sadness from the day. To let go of all the worries about the next day or the next week. To simply give yourself the gift of being for a few minutes.
Thomas Merton said something to the effect that, (I paraphrase): 'Th thing you have to be...is what you are.'
Our creator, or Gaia, or the Transcendent, or simply Nature, created us as beings. Just as the Oak tree glorifies God (or any of the previously mentioned origins) by simply being a Oak Tree. So it is with us by simply being. We don't strive to be better, smarter, prettier, funnier, faster, more efficient, or anything else. We simply be.
You are invited to give yourself the gift of peace by joining us on the Third Sunday of every month to sit as a group and simply BE community." - Stan Carignan
Fourth Sunday of the month, except in September when they will meet on September 17th, 8:45 to 9.45 - Bob Worner
The class will begin the year with the book used by the Celebrants, Fluent in Faith by Jeanne Harrison Niewejaar. It is "A Unitarian Universalist Embrace of Religious Language" and/or further discussing our beliefs using and redefining traditional religious language.
Children's Religious Education Classes
Meets every Sunday at 10 a.m.
For the first time in its 129 years, the Unitarian Church of Underwood will have Children's Religious Education classes every Sunday beginning at 10 a.m. With our increased growth of young families, expanded space, and congregational commitment, parents and volunteers will lead the children in songs, activities, and lessons. Children's ages range from 3 on up. For children under three, we request that a parent be in attendance with the child.
Over its many years, the Unitarian Church of Underwood has grown from a sparse congregation barely meeting monthly to an energetic congregation with every Sunday Worship (10 a.m.), Adult Religious Education (May through September), and Mindfulness Sitting at 9:15 a.m. every Sunday. We are delighted to now be able to offer as well, Children's Religious Education every Sunday, year-round. Each Sunday Service, we repeat together..."No single belief includes us here, no disbelief excludes us..." All are welcome!
Podcasts - Audio Recordings
To see a list of all podcasts by the Unitarian Church of Underwood follow this link: soundcloud.com/user-927528278
July 1, 2018 - Peggy Maxwell - Bhutan
soundcloud.com/user-927528278/bhutan-peggy-maxwell-july-1-2018
June 24, 2018 - Rev. Laurel Hallman - I Have Walked Through Many Lives
soundcloud.com/user-927528278/i-have-walked-through-many-lives-rev-laurel-hallman-june-24-2018
June 17, 2018 - Rev. Roger Parks - In Search of Our Light
soundcloud.com/user-927528278/in-search-of-our-light-rev-roger-parks-june-17-2018
June 11, 2018 - Rev. Stefan Jonasson - How Much False Witness Can We Bear?
soundcloud.com/user-927528278/how-much-false-witness-can-we-bear-rev-stefan-jonasson-june-10-2018
June 3, 2018 - Stephanie Sanderson - Shall We Pray?
soundcloud.com/user-927528278/shall-we-pray-stephanie-sanderson-june-3-2018
May 27, 2018 - Panel - MeToo
soundcloud.com/user-927528278/metoo-sandy-robyn-may-27-2018
May 20, 2018 - Dr. Wayne Barkhouse - Gravitational Waves
soundcloud.com/user-927528278/whispers-in-the-night-gravitational-waves-dr-wayne-barkhouse-may-20-2018
May 13, 2018 - Rev. Wesley Hromatko - Original Purpose of Mother's Day and it's UU Origins
soundcloud.com/user-927528278/original-purpose-of-mothers-day-its-uu-origins-wesley-hromatko-may-13-2018
May 6, 2018, Bob Worner - Learning to Speak Unitarian
soundcloud.com/user-927528278/learning-to-speak-unitarian-bob-worner-may-6-2018
April 29, 2018 - Pastor Danny Givens - Intersectional Justice and UU
soundcloud.com/user-927528278/intersectional-justice-uu-danny-givens-april-29-2018
April 22, 2018 - Joan Vorderbruggen - Getting Back to the Garden
soundcloud.com/user-927528278/getting-back-to-the-garden-joan-vorderbruggen-april-22-2018
April 15, 2018 - Mary Anderson - We Have a Plan
soundcloud.com/user-927528278/we-have-a-plan-mary-anderson-april-15-2018
April 8, 2018 - Ron Roller - Empowerment Grants
soundcloud.com/user-927528278/empowerment-grants-ron-roller-april-8-2018
April 1, 2018 - Ellen Eastby - Being the Resurrection
soundcloud.com/user-927528278/being-the-resurrection-ellen-eastby-april-1-2018
March 25, 2018 - Winona LaDuke - The Seventh Fire
soundcloud.com/user-927528278/the-seventh-fire-winona-laduke-march-25-2018
March 18, 2018 - Victoria Creek - An Update from the Field
soundcloud.com/user-927528278/an-update-from-the-field-victoria-creek-march-18-2018
March 11, 2018 - Kara Beckman - Restorative Practices in School
soundcloud.com/user-927528278/restorative-practices-in-school-kara-beckman-march-11-2018
March 4, 2018 - Spencer McGrew - Water: A Geographer's Perspective
soundcloud.com/user-927528278/water-a-geographers-perspective-spencer-mcgrew-march-4-2018
February 18, 2018 - Adam Martin - F5 Project
soundcloud.com/user-927528278/f5-project-adam-martin-february-18-2018
February 11, 2018 - UCU Panel Discussion - Why I am UU
soundcloud.com/user-927528278/why-i-am-uu-ucu-panel-february-11-2018
February 4, 2018 - Shannon Smith - The Heart is the Last Frontier
soundcloud.com/user-927528278/the-heart-is-the-last-frontier-shannon-smith-february-4-2018
January 28, 2018 - Karen Terry - Native Plants in Public Places: Creating Helathier Communities
soundcloud.com/user-927528278/native-plants-in-public-places-creating-healthier-communities-karen-terry-january-28-2018
January 14, 2018 - Joanie Ellison - Multicultural Center in Pelican RApids
soundcloud.com/user-927528278/multicultural-center-of-pelican-rapids-joan-ellison-january-14-2018
January 7, 2018 - Bob Worner - Shadow and Light
soundcloud.com/user-927528278/shadow-and-light-bob-worner-january-7-2018
December 24, 2017 - Bob Worner - Holy Days
soundcloud.com/user-927528278/holy-days-bob-worner-december-24-2017
December 10, 2017 - Jon Solinger - Working Land
soundcloud.com/user-927528278/working-land-jon-solinger-december-10-2017
December 3, 2017 - Katy Olson - To Err is Human, To Forgive Divine
soundcloud.com/user-927528278/to-err-is-human-to-forgive-divine-katy-olson
November 26, 2017 - David Grant - The Things We Fear
soundcloud.com/user-927528278/the-things-we-fear-david-grant
November 19, 2017 - Richard Kagan - Felonization: the Evil Fairy Tale for Immigrants
soundcloud.com/user-927528278/felonization-the-evil-fairy-tale-for-immigrants
November 12, 2017- Bob Worner - Thanksgiving and Hope
soundcloud.com/user-927528278/thanksgiving-and-hope
October 29, 2017 - Chris Schuelke - Interpreting Sensitive Matters in History
soundcloud.com/user-927528278/interpreting-sensitive-matters-in-history-chris-schuelke-october-29-2017
October 22, 2017 - Ian Evison - Small, but Mighty
soundcloud.com/user-927528278/small-but-mighty-ian-evison-october-22-2017
October 1, 2017 - Ellen Eastby - Grieving Losses, Celebrating Gains
soundcloud.com/user-927528278/grieving-losses-celbratin-gains
September 24, 2017 - Stefan Jonasson
soundcloud.com/user-927528278/20170924-stefan-jonasson
July 2, 2017 - Chris Hyslop - Humanity and Placement: People on the Move
soundcloud.com/user-927528278/humanity-and-placement-people-on-the-move-chris-hyslop-july-2-2017
June 4, 2017 - John Minge - What Have We Learned
soundcloud.com/user-927528278/what-have-we-learned-john-minge-june-4-2017
Music
Music is very important to us here at the Unitarian Chruch of Underwood. Each week there are different musicians playing a variety of instruments and a variety of music. We listen to or have listened to a trombone, Hurdy Gurdey, flute, violin, harp, piano, guitar, and much more. We hear blues, pop, numbers from musicals, gospel,and a grand waltz on occasion. We are very fortunate that we have the caliber of fine muscians come to play at the church for Sunday Service. They play the "special music" which consists of the prelude, offering, and postlude.
We have two great pianists at church who take turns at playing everyweek. Susan Groff is a talented musician. She origianlly played by ear and had to learn how to read music. She makes the piano come alive. Mary Worner is our other regular pianist. She is currently studying with Rebecca Davis. Mary seems to enjoy classical music and often brings the room to absolute silence with her playing.
We occasionally have a musician or musicians come to do a musical program for the whole service. Patty Kakac, Rebecca Davis, Anthony Miltich, Joe DiMasi, and the MState Voice Ensemble are just a few of the talented musicians to perform at the church.
Rev. Stefan Jonassen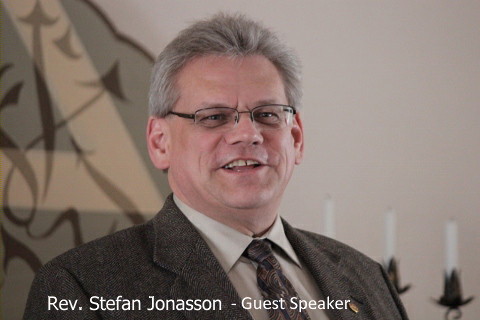 Reverend Stefan Jonasson is a Unitarian Universalist minister from Winnipeg, Manitoba, Canada and a long-time friend of the Unitarian Church of Underwood. We are fortunate to have him speak during Sunday Service at UCU about twice a year. This is the link to the podcast of his most recent sermon: soundcloud.com/user-927528278/how-much-false-witness-can-we-bear-rev-stefan-jonasson-june-10-2018