Sunday Morning Services
Please join us on Sunday mornings for services at 10:30. Sunday Services will start at 10:00 beginning in June. There is a different speaker each week.
July 2 - Chris Hyslop - Humanity and Placement People on the Move
July 9 - Bob Worner - At one ment
July 16 - Jody Janati - You are Response-Able
July 23 - Rev. Roger Parks - Non-Dual Reality
July 30 - Ellie Kingsbury - If I'm not doing anything, than who am I?
Sunday Morning Speakers
July 2 - Chris Hyslop - @i[Humanity and Placement People on the Move
On his annual visit with us, Chris will talk about human displacement and migration due to conflict and instability and what it means for our world now and in the future.
July 9 - Bob Worner - At one ment
Addressing the fourth principle.
Sunday Morning Meetings
First Sunday of the month - 9:15 to 10:15 - Adult Religious Education
Join John Minge in furthering discussions of white privilege and racial inequities using the book The Third Reconstruction: Moral Mondays, Fusion Politics, and Rise of a New Justice Movement by Rev. Dr. William Barber and Jonathan Wilson-Hartgrove
Second Sunday of the month 9:00 to 10:15 - Ancient Religions - Sandy Barnhouse will lead studies on the history of the women's spirituality movement (open to change)
Third Sunday of the month - 9:00 to 10:00 Mindfulness and Quaker Quiet Time
What started as Mindfulness Sitting has evolved into into Mindfulness and Quaker Quiet Time because almost half or the group have Quaker backgrounds. The Mindfulness and Quaker Quiet time group is now a uniquely UCU spiritual group as we have combined the two tradition in our shared appreciation for sitting in quiet and stillness.
Anyone who want to experience shared silence is invited to sit with us the third Sunday of the month.
Fourth Sunday of the Month - 9:15 to 10:15
Class this year, led by Bob Worner, will continue with a study of the New Testament, using John Shelby Spong's book Biblical Literalism: A Gentile Heresy. After an extensive introduction, the book deals primarily with the Gospel of Matthew, but as a book, it is written to be read in the synagogue and corresponding to the Jewish liturgy. We will work on the Preface,and Part One, through page 58 in September.
Music
Music is very important to us here at the Unitarian Chruch of Underwood. Each week there are different musicians playing a variety of instruments and a variety of music. We listen to or have listened to a trombone, Hurdy Gurdey, flute, violin, harp, piano, guitar, and much more. We hear blues, pop, numbers from musicals, gospel,and a grand waltz on occasion. We are very fortunate that we have the caliber of fine muscians come to play at the church for Sunday Service. They play the "special music" which consists of the prelude, offering, and postlude.
We have two great pianists at church who take turns at playing everyweek. Susan Groff is a talented musician. She origianlly played by ear and had to learn how to read music. She makes the piano come alive. Mary Worner is our other regular pianist. She is currently studying with Rebecca Davis. Mary seems to enjoy classical music and often brings the room to absolute silence with her playing.
We occasionally have a musician or musicians come to do a musical program for the whole service. Patty Kakac, Rebecca Davis, Anthony Miltich, Joe DiMasi, and the MState Voice Ensemble are just a few of the talented musicians to perform at the church.
Rev. Stefan Jonassen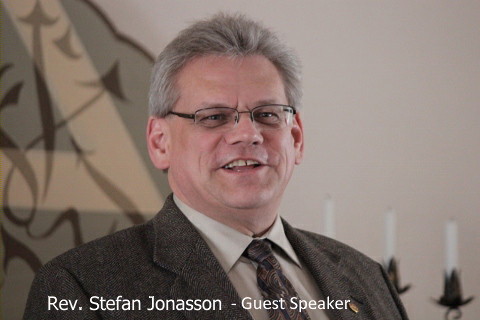 Reverend Stefan Jonasson is a Unitarian Universalist minister from Winnipeg, Manitoba, Canada and a long-time friend of the Unitarian Church of Underwood. We are fortunate to have him speak during Sunday Service at UCU about once a year. He will be speaking during Sunday Service on May 7, 2017.