Sunday Morning Services
Please join us on Sunday mornings for services at 10:00. There is a different speaker each week.
September 3 - Katy Olson - What I Learned at the Mosque: Mohammad, Islam and the Koran
September 10 - Nik Nerburn - Prairie Dreamers (Film)
September 17 - Ghazi Hassoun
September 24 - Stefan Jonassen
Sunday Morning Speakers
September 3 - Katy Olson - What I Learned at the Mosque: Mohammad, Islam and the Koran
September 10 - Nik Nerburn - Prairie Dreamers (Film)
Prairie Dreamers is an irreverent little film about an organization called Springboard for the Arts and what they've been doing in a town in west-central Minnesota called Fergus Falls. I (Nik) in Fergus Falls for a month, documenting a period of transition where they moved into their new office. Springboard is known for helping artists get their financial and legal houses in order, but their work in Fergus also revolves around something called creative placemaking. Creative placemaking can look like a lot of different things, but I've described it as 'taking a place people don't want to be and making it a place they do.' In Fergus, much of that revolves around an old state hospital building that looms on the edge of town. But their whole spectrum of rural life is also being reimagined. That's what the film explores. Also see springboardexchange.org/prairie_dreamers/.
September 17 - Ghazi Hassoun
Gzazi Hassoun is a retired theoretical physicist who taught at NDSU. He will speak on his story about being displaced by the Israeli Palestinian war of 1948 and his personal struggle to understand "Middle Eastern history, politics, religion, inter-community relations, economics, refugees" etc. His book is -"Walking Out into the Sunshine."
September 24 - Stefan Jonassen
Sunday Morning Meetings
First Sunday of the month - 8:45 to 9:45 - Adult Religious Education
Join John Minge.
Second Sunday of the month 8:45 to 9:45 - Ancient Religions - Sandy Barnhouse.
This year's curriculum will be two intertwined paths: (1) the study of ancient/extant religions in search f knowing whose philosophical origins included the love and worship of the Earth; was Earth worship present in Jainism, Mithraism, Zoroastrianism, the ancient religions of Egypt, Judea (Judaism), Persia, Afghanistan, and India (Hinduism)? and (2) a modern attempt to recreate a similar worship, by many people rediscovering the relationship between Earth, life, and spirit, as expressed through the ecofeminist movement of the late 20th century. This subject of learning reminds us that ancient earth religious recognition and celebrations lead us to the environmental justice awareness of today as we continue to honor and treasure our earth.
Third Sunday of the month - 8:30 to 9:30 - Mindfulness/Quaker Quiet Time Sitting- Led by Stan Carignan
"EVERBODY, JUST TAKE A DEEP BREATH AND CALM DOWN! We have all hear someone say this - it's as old as the trees. We all know it works. When we get excited and need to compose ourselves, the simple act of taking a few deep breaths has a soothing effect on our bodies and minds. Most people don't give it a second thought.
The fact is that many of us through our daily lives, live in a state of elevated tension and stress. In this state, we 'forget to breath.' We do actually breathe, but the stress breath is shorter and shallower. Most of us have lived so long like this that we don't realize that it is not our natural way of breathing. Many people discover how stressed they are when they begin sitting and simply breathing. It is a wonderful feeling to let go of all your stress each day. To let go of the petty hurts, jealousies, or sadness from the day. To let go of all the worries about the next day or the next week. To simply give yourself the gift of being for a few minutes.
Thomas Merton said something to the effect that, (I paraphrase): 'Th thing you have to be...is what you are.'
Our creator, or Gaia, or the Transcendent, or simply Nature, created us as beings. Just as the Oak tree glorifies God (or any of the previously mentioned origins) by simply being a Oak Tree. So it is with us by simply being. We don't strive to be better, smarter, prettier, funnier, faster, more efficient, or anything else. We simply be.
You are invited to give yourself the gift of peace by joining us on the Third Sunday of every month to sit as a group and simply BE community." - Stan Carignan
Fourth Sunday of the month, except in September when they will meet on September 17th, 8:45 to 9.45 - Bob Worner
The class will begin the year with the book used by the Celebrants, Fluent in Faith by Jeanne Harrison Niewejaar. It is "A Unitarian Universalist Embrace of Religious Language" and/or further discussing our beliefs using and redefining traditional religious language.
Music
Music is very important to us here at the Unitarian Chruch of Underwood. Each week there are different musicians playing a variety of instruments and a variety of music. We listen to or have listened to a trombone, Hurdy Gurdey, flute, violin, harp, piano, guitar, and much more. We hear blues, pop, numbers from musicals, gospel,and a grand waltz on occasion. We are very fortunate that we have the caliber of fine muscians come to play at the church for Sunday Service. They play the "special music" which consists of the prelude, offering, and postlude.
We have two great pianists at church who take turns at playing everyweek. Susan Groff is a talented musician. She origianlly played by ear and had to learn how to read music. She makes the piano come alive. Mary Worner is our other regular pianist. She is currently studying with Rebecca Davis. Mary seems to enjoy classical music and often brings the room to absolute silence with her playing.
We occasionally have a musician or musicians come to do a musical program for the whole service. Patty Kakac, Rebecca Davis, Anthony Miltich, Joe DiMasi, and the MState Voice Ensemble are just a few of the talented musicians to perform at the church.
Rev. Stefan Jonassen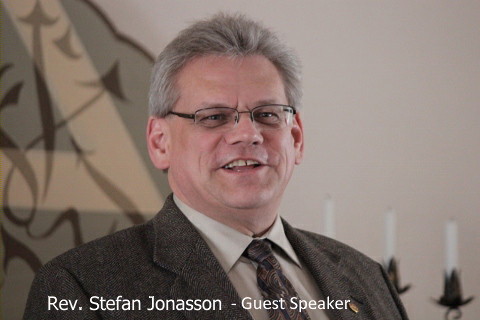 Reverend Stefan Jonasson is a Unitarian Universalist minister from Winnipeg, Manitoba, Canada and a long-time friend of the Unitarian Church of Underwood. We are fortunate to have him speak during Sunday Service at UCU about once a year. He will be speaking during Sunday Service on September 24, 2017.