Sunday Morning Services
Please join us on Sunday mornings for services at 10:00. There is a different speaker each week.
September 2 - Bob Worner - Open Hands
September 9 - UCU Men - Facilitated by Darryl Booker - Me Too
September 16 - Roger Parks - Becoming the Lighthouse for the World
September 23 - Sandy Barnhouse - Autistic Life, not Life with Autism
September 30 - Ghazi Hassoun - My Lifetime Spiritual Journey
October 7 - Richard Kagen - The Historical and Current Themes in Each UU
October 14 - Stan Carignan - It's a Wonderful Life
October 21 - Rev. Thomas Schmidt - Could You Be a Pagan Without Knowing it
October 28 - Bob Worner - The Rowboar Society
November 4 - Ben Schierer - Shining Cities on the Prairie
November 11 - Janell Miersch & Friends - Citizens Climate Lobby
November 18 - Jane Smith - Joining Together with Multiple Truths
November 25 - Athena Kildegaard - Poetry and Gratitude
Sunday Morning Speakers
November 4 - Ben Schierer - Shining Cities on the Prairie
Ben Schierer was first elected to the Fergus Falls City Council in 2004. He was elected as mayor in 2016. Ben and his wife, Tessa, along with their five children own and operate Union Pizza & Brewing Company in downtown Fergus Falls.
From John Winthrop to John Kennedy to Ronald Reagan, America has often been compared to the "City on the Hill" that Jesus spoke of in his Sermon on the Mount. Does our current political rhetoric reflect this exalted aim? Can our local governments, communities, and churches foster the conversations and rebuild the trust necessary to return us to a society based on respect, civility, and the lifting of a common good worthy of this lofty aspiration?
November 11 - Janell Miersch & Friends: Beth Monke and Patty Shol of the "Citizens Climate Lobby."
As our planet continues to be pummeled with 100-year storms/hurricanes, earthquakes, raging fires, and other disasters, we all search for causes. Citizens' Climate Lobby is a non-profit, bi-partisan, grassroots lobbying organization focused on national policies relating to climate change. But the organization cannot move forward without legislators to champion climate solutions. These three women who are members of the Fergus Falls chapter of Citizen's Climate Lobby will explain the origins and purpose of this international group. They will talk about how our Unitarian Principles call us to join with others to mitigate the impending effects of climate change with just and ethical responses.
We will focus on:
1st Principle: The inherent worth and dignity of every person and 5th Principle: The right of conscience and the use of the democratic process within our congregations and in society at large in this bi-partisan legislative effort
4th Principle: A free and responsible search for truth and meaning when some are denouncing climate change
7th Principle: Respect for the interdependent web of all existence of which we are a part as we accept our responsibility to remedy and mitigate climate change
November 18 - Jane Smith - Joining Together With Multiple Truths
Boundaries allow individuals to have their own personal truths, while acknowledging and respecting the truths of others. There is respect, acceptance, and affirmation of others, but also holding on to personal beliefs. We can see the need for boundaries in our theologically diverse UU denomination and in our need to work across political boundaries when organizing for social justice. Different beliefs can act in unison for a common cause.
Principles 1, 3 and 6.
November 25 - Althena Kildegaard - The Grace of Gratitude
Referencing UU Principles 1 & 7.
Thanks to social media we're good at "liking." Thumbs up for cats and goats and babies! Gratitude is surely a different thing--liking with gravitas. There's no grace to hitting Like, but there's grace in gratitude. Athena Kildegaard will explore this idea with the help of a few poems.
Athena is the author of five books of poetry, most recently Course. She's been a recipient of grants from the Lake Region Arts Council and the Minnesota State Arts Board. Her poems have been read by Garrison Keillor, set to music by the McKnight Artist of the Year Libby Larsen, and nominated for the Pushcart Prize. She teaches at the University of Minnesota, Morris.
Sunday Morning Adult RE
First Sunday of the month - 8:45 to 9:45 - Adult Religious Education
John Minge is leading a discussion from: A Good Time for the Truth: Race in Minnesota. The book consists of 16 or 17 essays written recently by people wit different racial/ethnic backgrounds with a strong connection to Minnesota, most live here. It challenges the assertion that we are as "nice" as we claim to be. "How can a place renowned for its hospitality and its progressive values have proven to be so profoundly inhospitable toward its people of color?"
Second Sunday of the month 8:45 to 9:45 - Ancient Religions - Sandy Barnhouse.
This year's curriculum will be two intertwined paths: (1) the study of ancient/extant religions in search f knowing whose philosophical origins included the love and worship of the Earth; was Earth worship present in Jainism, Mithraism, Zoroastrianism, the ancient religions of Egypt, Judea (Judaism), Persia, Afghanistan, and India (Hinduism)? and (2) a modern attempt to recreate a similar worship, by many people rediscovering the relationship between Earth, life, and spirit, as expressed through the ecofeminist movement of the late 20th century. This subject of learning reminds us that ancient earth religious recognition and celebrations lead us to the environmental justice awareness of today as we continue to honor and treasure our earth.
Every Sunday at 9:15 in Suite 300 - Mindfulness/Quaker Quiet Time Sitting- Led by Stan Carignan
"EVERBODY, JUST TAKE A DEEP BREATH AND CALM DOWN! We have all hear someone say this - it's as old as the trees. We all know it works. When we get excited and need to compose ourselves, the simple act of taking a few deep breaths has a soothing effect on our bodies and minds. Most people don't give it a second thought.
The fact is that many of us through our daily lives, live in a state of elevated tension and stress. In this state, we 'forget to breath.' We do actually breathe, but the stress breath is shorter and shallower. Most of us have lived so long like this that we don't realize that it is not our natural way of breathing. Many people discover how stressed they are when they begin sitting and simply breathing. It is a wonderful feeling to let go of all your stress each day. To let go of the petty hurts, jealousies, or sadness from the day. To let go of all the worries about the next day or the next week. To simply give yourself the gift of being for a few minutes.
Thomas Merton said something to the effect that, (I paraphrase): 'Th thing you have to be...is what you are.'
Our creator, or Gaia, or the Transcendent, or simply Nature, created us as beings. Just as the Oak tree glorifies God (or any of the previously mentioned origins) by simply being a Oak Tree. So it is with us by simply being. We don't strive to be better, smarter, prettier, funnier, faster, more efficient, or anything else. We simply be.
You are invited to give yourself the gift of peace by joining us on the Third Sunday of every month to sit as a group and simply BE community." - Stan Carignan
Fourth Sunday of the month, except in September when they will meet on September 17th, 8:45 to 9.45 - Bob Worner
The class will begin the year with the book used by the Celebrants, Fluent in Faith by Jeanne Harrison Niewejaar. It is "A Unitarian Universalist Embrace of Religious Language" and/or further discussing our beliefs using and redefining traditional religious language.
Children's Religious Education Classes
Meets every Sunday at 10 a.m.
For the first time in its 129 years, the Unitarian Church of Underwood will have Children's Religious Education classes every Sunday beginning at 10 a.m. With our increased growth of young families, expanded space, and congregational commitment, parents and volunteers will lead the children in songs, activities, and lessons. Children's ages range from 3 on up. For children under three, we request that a parent be in attendance with the child.
Over its many years, the Unitarian Church of Underwood has grown from a sparse congregation barely meeting monthly to an energetic congregation with every Sunday Worship (10 a.m.), Adult Religious Education (May through September), and Mindfulness Sitting at 9:15 a.m. every Sunday. We are delighted to now be able to offer as well, Children's Religious Education every Sunday, year-round. Each Sunday Service, we repeat together..."No single belief includes us here, no disbelief excludes us..." All are welcome!
Podcasts - Audio Recordings
To see a list of all podcasts by the Unitarian Church of Underwood follow this link: soundcloud.com/user-927528278
October 28, 2018 - Bob Worner - The Rowboat Society
soundcloud.com/user-927528278/the-rowboat-society
October 21, 2018 - Rev. Thomas Schmidt - Could You Be a Pagan Without Knowing It?
soundcloud.com/user-927528278/could-you-be-a-pagan-without-knowing-it-rev-thomas-schmidt-october-21-2018
October 14, 2018 - Stan Carignan - It's a Wonderful Life
soundcloud.com/user-927528278/the-historical-origins-and-current-themes-in-each-uu-richard-kagan-october-7-2018
October 7, 2018 - Richard Kagan - The Historical and Current Themes in UU
soundcloud.com/user-927528278/the-historical-origins-and-current-themes-in-each-uu-richard-kagan-october-7-2018
September 30, 2018 - Bob Worner - When Good Things Happen to Good People
soundcloud.com/user-927528278/when-good-things-happen-to-good-people-bob-worner-september-30-2018
September 23, 2018 - Sandy Barnhouse - Autistic Life, Not Life with Autism
soundcloud.com/user-927528278/autistic-life-not-life-with-autism-sandy-barnhouse-september-23-2018
September 16, 2018 - Rev. Roger Parks - Becoming a Lighthouse for the World
soundcloud.com/user-927528278/becoming-a-lighthouse-for-the-world-roger-parks-september-16-2018
September 9, 2018 - Mens Panel - Me too
soundcloud.com/user-927528278/me-too
September 2, 2018 - Open Hands - Bob Worner
tps://soundcloud.com/user-927528278/open-hands-bob-worner-september-2-2018
August 26, 2018 - Marianne Bryan - Pianist
soundcloud.com/user-927528278/pianist-marianne-bryan-august-26-2018
August 19, 2018 - Dave Hage - The News is Back
soundcloud.com/user-927528278/the-news-is-back-dave-hage-august-19-2018
August 12, 2018 - Roger Parks - Letting Our Light Shine
soundcloud.com/user-927528278/letting-our-light-shine-roger-parks-august-122018
July 29, 2018 - Jim Laine - MetaReligion:The Authority that Makes Religious Tolerance Possible
soundcloud.com/user-927528278/metareligion-the-authority-that-makes-religious-tolerance-possible-jim-laine-july-29-2018
July 22, 2018 - Ellen Eastby - General Assembly
soundcloud.com/user-927528278/general-assembly-general-assembly-ellen-eastby-july22-2018
Juy 15, 2018 - Chris Hyslop - Do Two Rights Make a Wrong
soundcloud.com/user-927528278/do-two-rights-make-a-wrong-chris-hyslop-july-15-2018
July 8, 2018 - Bob Worner - The Beginning and the End
soundcloud.com/user-927528278/the-beginning-and-the-end-july-8-2018
July 1, 2018 - Peggy Maxwell - Bhutan
soundcloud.com/user-927528278/bhutan-peggy-maxwell-july-1-2018
June 24, 2018 - Rev. Laurel Hallman - I Have Walked Through Many Lives
soundcloud.com/user-927528278/i-have-walked-through-many-lives-rev-laurel-hallman-june-24-2018
June 17, 2018 - Rev. Roger Parks - In Search of Our Light
soundcloud.com/user-927528278/in-search-of-our-light-rev-roger-parks-june-17-2018
June 11, 2018 - Rev. Stefan Jonasson - How Much False Witness Can We Bear?
soundcloud.com/user-927528278/how-much-false-witness-can-we-bear-rev-stefan-jonasson-june-10-2018
June 3, 2018 - Stephanie Sanderson - Shall We Pray?
soundcloud.com/user-927528278/shall-we-pray-stephanie-sanderson-june-3-2018
May 27, 2018 - Panel - MeToo
soundcloud.com/user-927528278/metoo-sandy-robyn-may-27-2018
May 20, 2018 - Dr. Wayne Barkhouse - Gravitational Waves
soundcloud.com/user-927528278/whispers-in-the-night-gravitational-waves-dr-wayne-barkhouse-may-20-2018
May 13, 2018 - Rev. Wesley Hromatko - Original Purpose of Mother's Day and it's UU Origins
soundcloud.com/user-927528278/original-purpose-of-mothers-day-its-uu-origins-wesley-hromatko-may-13-2018
May 6, 2018, Bob Worner - Learning to Speak Unitarian
soundcloud.com/user-927528278/learning-to-speak-unitarian-bob-worner-may-6-2018
April 29, 2018 - Pastor Danny Givens - Intersectional Justice and UU
soundcloud.com/user-927528278/intersectional-justice-uu-danny-givens-april-29-2018
April 22, 2018 - Joan Vorderbruggen - Getting Back to the Garden
soundcloud.com/user-927528278/getting-back-to-the-garden-joan-vorderbruggen-april-22-2018
April 15, 2018 - Mary Anderson - We Have a Plan
soundcloud.com/user-927528278/we-have-a-plan-mary-anderson-april-15-2018
April 8, 2018 - Ron Roller - Empowerment Grants
soundcloud.com/user-927528278/empowerment-grants-ron-roller-april-8-2018
April 1, 2018 - Ellen Eastby - Being the Resurrection
soundcloud.com/user-927528278/being-the-resurrection-ellen-eastby-april-1-2018
March 25, 2018 - Winona LaDuke - The Seventh Fire
soundcloud.com/user-927528278/the-seventh-fire-winona-laduke-march-25-2018
March 18, 2018 - Victoria Creek - An Update from the Field
soundcloud.com/user-927528278/an-update-from-the-field-victoria-creek-march-18-2018
March 11, 2018 - Kara Beckman - Restorative Practices in School
soundcloud.com/user-927528278/restorative-practices-in-school-kara-beckman-march-11-2018
March 4, 2018 - Spencer McGrew - Water: A Geographer's Perspective
soundcloud.com/user-927528278/water-a-geographers-perspective-spencer-mcgrew-march-4-2018
February 18, 2018 - Adam Martin - F5 Project
soundcloud.com/user-927528278/f5-project-adam-martin-february-18-2018
February 11, 2018 - UCU Panel Discussion - Why I am UU
soundcloud.com/user-927528278/why-i-am-uu-ucu-panel-february-11-2018
February 4, 2018 - Shannon Smith - The Heart is the Last Frontier
soundcloud.com/user-927528278/the-heart-is-the-last-frontier-shannon-smith-february-4-2018
January 28, 2018 - Karen Terry - Native Plants in Public Places: Creating Helathier Communities
soundcloud.com/user-927528278/native-plants-in-public-places-creating-healthier-communities-karen-terry-january-28-2018
January 14, 2018 - Joanie Ellison - Multicultural Center in Pelican RApids
soundcloud.com/user-927528278/multicultural-center-of-pelican-rapids-joan-ellison-january-14-2018
January 7, 2018 - Bob Worner - Shadow and Light
soundcloud.com/user-927528278/shadow-and-light-bob-worner-january-7-2018
December 24, 2017 - Bob Worner - Holy Days
soundcloud.com/user-927528278/holy-days-bob-worner-december-24-2017
December 10, 2017 - Jon Solinger - Working Land
soundcloud.com/user-927528278/working-land-jon-solinger-december-10-2017
December 3, 2017 - Katy Olson - To Err is Human, To Forgive Divine
soundcloud.com/user-927528278/to-err-is-human-to-forgive-divine-katy-olson
November 26, 2017 - David Grant - The Things We Fear
soundcloud.com/user-927528278/the-things-we-fear-david-grant
November 19, 2017 - Richard Kagan - Felonization: the Evil Fairy Tale for Immigrants
soundcloud.com/user-927528278/felonization-the-evil-fairy-tale-for-immigrants
November 12, 2017- Bob Worner - Thanksgiving and Hope
soundcloud.com/user-927528278/thanksgiving-and-hope
October 29, 2017 - Chris Schuelke - Interpreting Sensitive Matters in History
soundcloud.com/user-927528278/interpreting-sensitive-matters-in-history-chris-schuelke-october-29-2017
October 22, 2017 - Ian Evison - Small, but Mighty
soundcloud.com/user-927528278/small-but-mighty-ian-evison-october-22-2017
October 1, 2017 - Ellen Eastby - Grieving Losses, Celebrating Gains
soundcloud.com/user-927528278/grieving-losses-celbratin-gains
September 24, 2017 - Stefan Jonasson
soundcloud.com/user-927528278/20170924-stefan-jonasson
July 2, 2017 - Chris Hyslop - Humanity and Placement: People on the Move
soundcloud.com/user-927528278/humanity-and-placement-people-on-the-move-chris-hyslop-july-2-2017
June 4, 2017 - John Minge - What Have We Learned
soundcloud.com/user-927528278/what-have-we-learned-john-minge-june-4-2017
Music
Music is very important to us here at the Unitarian Chruch of Underwood. Each week there are different musicians playing a variety of instruments and a variety of music. We listen to or have listened to a trombone, Hurdy Gurdey, flute, violin, harp, piano, guitar, and much more. We hear blues, pop, numbers from musicals, gospel,and a grand waltz on occasion. We are very fortunate that we have the caliber of fine muscians come to play at the church for Sunday Service. They play the "special music" which consists of the prelude, offering, and postlude.
We have two great pianists at church who take turns at playing everyweek. Susan Groff is a talented musician. She origianlly played by ear and had to learn how to read music. She makes the piano come alive. Mary Worner is our other regular pianist. She is currently studying with Rebecca Davis. Mary seems to enjoy classical music and often brings the room to absolute silence with her playing.
We occasionally have a musician or musicians come to do a musical program for the whole service. Patty Kakac, Rebecca Davis, Anthony Miltich, Joe DiMasi, and the MState Voice Ensemble are just a few of the talented musicians to perform at the church.
Rev. Stefan Jonassen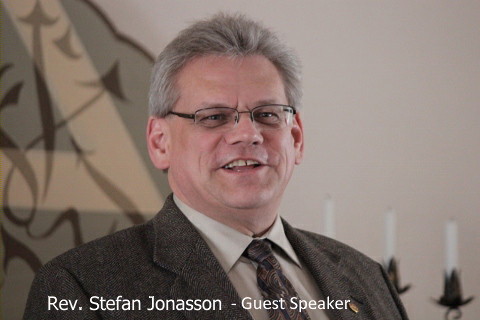 Reverend Stefan Jonasson is a Unitarian Universalist minister from Winnipeg, Manitoba, Canada and a long-time friend of the Unitarian Church of Underwood. We are fortunate to have him speak during Sunday Service at UCU about twice a year. This is the link to the podcast of his most recent sermon: soundcloud.com/user-927528278/how-much-false-witness-can-we-bear-rev-stefan-jonasson-june-10-2018