Sunday Morning Services
Please join us on Sunday mornings for services at 10:00. There is a different speaker each week.
August 4 - Barb Honer - The Good, the Bad, and the Humanity
August 11 - Willard Yellowbird - Understanding the Oneness of the Spirit in the Native American Tradition
August 18 - Tere Mann and Bert Whitcombe - Building Community - Service being held at Phelps Mill
August 25 - Dr. Hilda Koster - Planetary Solidarity:Women, Theology, and Climate Justice
September 1 - Bob Worner - A Late Summer Day's Dream
September 8 - Rev. Roger Parks - Holy Envy - Appreciating Alternative Spiritual Practices
September 15 - John Donahue - All the World's a Stage
September 22 - Lindsey Scherloum - We Tell Time by the Sun and the Moon: Humbled by the Ethnosphere
September 29 - Larry McDonough - TBA
October 6 - Shannon Smith - First, Do No Harm
October 13 - Sydney Bauer - Morris climate strike organizer
October 20 - Noreen Hautala - Standing Up for Racial Justice (SURJ)
October 27 - Ann Reed - songwriter, singer, guitarist
Sunday Morning Speakers
October 6 - Shannon Smith - First, Do No Harm
The adage, "'First Do No Harm" has a depth of meaning and action that can help us respond to many of the issues and difficulties we encounter in our lives. It also applies to how our UU congregation can look forward to our future. How we respond to and are seen in our community will have an impact on the success of our church.
October 13 - Sydney Bauer
Sydney is a recent graduate of UM Morris, and one of the organizers of the Morris Climate Strike activities.
October 20 - Noreen Hautala
Noreen will speak to us about Standing Up for Racial Justice (SURJ) and lead an hour-long discussion following the service.
SURJ is a national network of groups and individuals working to undermine white supremacy and to work toward racial justice. Through community organizing, mobilizing, and education, SURJ moves white people to act as part of a multi-racial majority for justice with passion and accountability.
SURJ works to connect people across the country while supporting and collaborating with local and national racial justice organizing efforts. SURJ provides a space to build relationships, skills and political analysis to act for change.
October 27 - Ann Reed
Songwriter, singer, guitarist Ann Reed has been performing for more than 35 years with her rich, dark-chocolate voice, storytelling from the human experience, and songs that find a permanent place in the heart. Of course, some of her songs and stories might end up closer to your funny bone - a little irreverence never hurt anyone. Ann has toured North America coast to coast, doing concerts, clubs, festivals, and she's met wonderful fans and made friends all along the way.
Children's Religious Education Classes
Meets every Sunday at 10 a.m.
For the first time in its 129 years, the Unitarian Church of Underwood will have Children's Religious Education classes every Sunday beginning at 10 a.m. With our increased growth of young families, expanded space, and congregational commitment, parents and volunteers will lead the children in songs, activities, and lessons. Children's ages range from 3 on up. For children under three, we request that a parent be in attendance with the child.
Over its many years, the Unitarian Church of Underwood has grown from a sparse congregation barely meeting monthly to an energetic congregation with every Sunday Worship (10 a.m.), Adult Religious Education (May through September), and Mindfulness Sitting at 9:15 a.m. every Sunday. We are delighted to now be able to offer as well, Children's Religious Education every Sunday, year-round. Each Sunday Service, we repeat together..."No single belief includes us here, no disbelief excludes us..." All are welcome!
Sunday Morning Adult RE
Adult RE classes meet in the September through May.
Every Sunday at 9:15 in Suite 300 - Mindfulness/Quaker Quiet Time Sitting- Led by Stan Carignan
Second Sunday of the month 8:45 to 9:45 - Ancient Religions - Led by Sandy Barnhouse.
This year we will finish discussing Riane Eisler's Sacred Pleasure beginning with Chapter 13. Participants are encouraged to review chapters 11 and 12, and read chapter 13 prior to the September meeting. Our calendar will shift as follows: We will not meet December, January or February. Beginning in March, we'll wrap up the last Eisler chapters we've finished over the winter and begin a new source and direction as suggested and/or agreed upon by participants. From March 2020 through the summer, and until November 2020, we'll meet every month, comprising a nine-month cycle, which allows summer attendance. If the class is well attended, we'll hopefully adopt this new calendar and make it less difficult to attend in the early hours during the darker winter months. Meeting time: 8:45 a.m. Sandy Barnhouse
Third Sunday of the Month 8:45 to 9:45 White Fragility - Led by Ellen Eastby
"...I believe that white progressives cause the most daily damage for people of color. I define a white progressive as any white person who thinks he or she is not racist, or is less racist, or in the 'choir,' or already 'gets it.' White progressives can be the most difficult for people of color because, to the degree that we think we have arrived, we will put our energy into making sure that others see us as having arrived. None of our energy will go into what we need to be doing for the rest of our lives: engaging in ongoing self-awareness, continuing education, relationship building, and actual antiracist practice. White progressives do indeed uphold and perpetuate racism, but out defensiveness and certitude make it virtually impossible to explain to us how we do so." Robin Diangelo - White Fragility - Why It's So Hard for White People to Talk About Racism.
Although the previous paragraph is difficult for many of us to read, there is much truth to it. That is why reading this book is so important for ourselves and for humankind as a whole. On the third Sunday of the month, from 8:45 to 9:45 at the church, Adult RE will consist of reading and discussing the book White Fragility - Why It's So Hard for White People to Talk About Racism by Robin Diangelo. (The book is available at the UUA bookstore, as well as, places like Barnes & Noble, and Amazon.) Ellen Eastby will be leading the class. On Sunday, September 15th we will focus our discussion fromt he forward on page ix through page 14. Please be prepared to be uncomfortable, honest, and gentle with yourself as we discuss this difficult, but potentially life changing, subject.
Fourth Sunday of the month 8:45 to 9:45 - Spong - Led by Bob Worner
Power Point - There is No Away - Waking Up to Consumption and Waste
www.ucofu.org/PP/UU%20Talk.pptx
Podcasts - Audio Recordings
To see a list of all podcasts by the Unitarian Church of Underwood follow this link: soundcloud.com/user-927528278
June 2, 2019 - Ellen Eastby - Spirituality: How Does It Feel to You?
soundcloud.com/user-927528278/spirituality-how-does-it-feel-to-you-ellen-eastby-june-2-2019
May 26, 2019 - Katy Olson - The End of Colonialism and the Rise of the Partnership Society
soundcloud.com/user-927528278/the-end-of-colonialism-and-the-rise-of-the-partnership-society-katy-olson
May 19, 2019 - Carole Mitchell - Change a Thought, Change Your Life
soundcloud.com/user-927528278/change-a-thought-change-your-life-carole-mitchell-20190519
May 12, 2019 - Panel Discussion - Motherhood and Parenting
soundcloud.com/user-927528278/motherhood-parenting-panel-albers-carignan-stone-warhol-may-12-2019
May 12, 2019 - Diane Johnson - Tribute to Mothers
soundcloud.com/user-927528278/tribute-to-mothers-diane-johnson-may-12-2019
May 5, 2019 - Bob Worner - Acquainted with Grief
soundcloud.com/user-927528278/acquainted-with-grief-bob-worner-20190505
April 28, 2019 - Larry McDonough - Wellstone, A Rememberance
soundcloud.com/user-927528278/wellstone-a-remembrance-larry-mcdonough-april-28-2019
April 21, 2019 - Bob Worner - The Day the Stone was Rolled Away
soundcloud.com/user-927528278/the-day-the-stone-was-rolled-away-uu-principle-1-bob-worner-april-21-2019
April 14, 2019 - Kris Warhol - Cultivating Joy
soundcloud.com/user-927528278/cultivationg-joy-kris-warhol-april-14-2019
April 7, 2019 - Rev. Stefan Jonasson - Radical Moderation
soundcloud.com/user-927528278/radical-moderation-rev-stefan-jonasson-april-7-2019
March 31, 2019 - Edie Barrett - Getting Uncomfortable with White Privilege
soundcloud.com/user-927528278/getting-uncomfortable-with-white-privilege
March 24, 2019 - Maryjane Westra - Stupid Missionary Tricks
soundcloud.com/user-927528278/stupid-missionary-tricks-maryjane-westra-march-24-2019
March 17. 2019 - View from the Throne - Sandy Barnhouse & Friends
soundcloud.com/user-927528278/view-from-the-throne-four-british-queens-sandy-barnhouse-friends-20190317
March 3, 2019 - Stewardship Committee - Gifts in Gratitude
soundcloud.com/user-927528278/gifts-in-gratitude
February 17, 2019 - Rita Chamblin - The Intricate Weaving
soundcloud.com/user-927528278/the-intricate-weaving-rita-chamblin-20190217
February 10, 2019 - Victoria McWane-Creek - Depolarizing Everything
soundcloud.com/user-927528278/depolarizing-everything-victoria-mcwane-creek-february-10-2019
February 3, 2019 - Ellen Eastby - The Hard, Messy Work of Compassion
soundcloud.com/user-927528278/the-hard-messy-work-of-compassion-ellen-eastby-february-3-2019
January 27, 2019 - Rene Meyer-Grinberg- Transylvania: Homes, Hands, and Hearts
soundcloud.com/user-927528278/transylvania-homes-hands-and-hearts
January 20, 2019 - Sherry Bruckner - What's Happening at the US Border
soundcloud.com/user-927528278/whats-happening-at-the-us-border-sherry-bruckner-january-20-2019
January 13th, 2019 - Luther Aadland - Reconnceting Rivers; Webs of Life
soundcloud.com/user-927528278/reconnecting-rivers-webs-of-life
January 6. 2019 - Bob Worner - How to Warm and Cool our Earth
soundcloud.com/user-927528278/how-to-warm-and-cool-our-earth-bob-worner-january-6-2019
December 30, 2018 - Kevin Hutchinson - A Musical Journey on HipHop & More
soundcloud.com/user-927528278/a-musical-journey-on-hip-hop-and-more
December 24, 2018 - Ellen Eastby - The Weary World Rejoices - A Message of Hope
soundcloud.com/user-927528278/the-weary-world-rejoices-ellen-eastby-december-24-2018
December 23, 2018 - Katy Olson - Witnessingfor Peace, Oaxaca, NAFTA, and Corn
soundcloud.com/user-927528278/katy-olson-december-23-2018-witnessing-for-peace-oaxaca-nafta-corn
December 9, 2018 - Bob Worner - The Gifts We Bring
soundcloud.com/user-927528278/the-gifts-we-bring-bob-worner-december-9-2018
December 2, 2018 - Naomi Schliesman - Home and Places/Spaces
soundcloud.com/user-927528278/home-and-placesspaces-naomi-schelliesman-december-2-2018
Music
Music is very important to us here at the Unitarian Chruch of Underwood. Each week there are different musicians playing a variety of instruments and a variety of music. We listen to or have listened to a trombone, Hurdy Gurdey, flute, violin, harp, piano, guitar, and much more. We hear blues, pop, numbers from musicals, gospel,and a grand waltz on occasion. We are very fortunate that we have the caliber of fine muscians come to play at the church for Sunday Service. They play the "special music" which consists of the prelude, offering, and postlude.
We have two great pianists at church who take turns at playing everyweek. Susan Groff is a talented musician. She origianlly played by ear and had to learn how to read music. She makes the piano come alive. Mary Worner is our other regular pianist. She is currently studying with Rebecca Davis. Mary seems to enjoy classical music and often brings the room to absolute silence with her playing.
We occasionally have a musician or musicians come to do a musical program for the whole service. Patty Kakac, Rebecca Davis, Anthony Miltich, Joe DiMasi, and the MState Voice Ensemble are just a few of the talented musicians to perform at the church.
Rev. Stefan Jonassen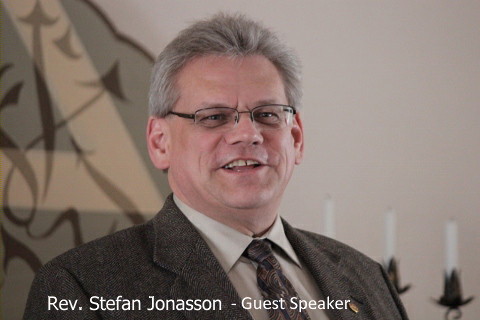 Reverend Stefan Jonasson is a Unitarian Universalist minister from Winnipeg, Manitoba, Canada and a long-time friend of the Unitarian Church of Underwood. We are fortunate to have him speak during Sunday Service at UCU about twice a year. This is the link to the podcast of his most recent sermon: soundcloud.com/user-927528278/radical-moderation-rev-stefan-jonasson-april-7-2019