Welcome!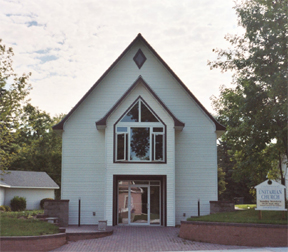 Thank you for visiting our website. We hope that these pages will give you an understanding of who we are as a church, as well as, what we are as a religion. We also have much information about what is happening at the church to keep our members, friends and visitors informed.
We are a welcoming congregation that is a spiritual home to all people regardless of race, color, gender, affectional or sexual orientation, gender identity or expression, age, national origin, socioeconomic status, physical or mental ability.
Application for the Congregational Associate for the Unitarian Church of Underwood
You are invited to apply for the position of Congregational Associate for the Unitarian Church of Underwood. We request the application include a cover letter, a resume, and the linked job application form. It can be submitted either by e-mail or hard copy.
Link to job application form: docs.google.com/forms/d/e/1FAIpQLSeUhGyQxNxwhpIkCHmCwKrlmkQFWOnseoB2qfBXiNS2greN3Q/viewform?vc=0&c=0&w=1
To apply by email send to: ucuposition@gmail.com (by June 18th).
To apply by hard copy (postmarked by June 18th) mail to:
Unitarian Church of Underwood
P.O. Box 58
Underwood, MN 56586
Attn: Betsy Wells
Any questions relating to applying can be directed to: ucuposition@gmail.com.
All applications will be held confidentially by the Search Task Force and the Board of Directors of the Unitarian Church of Underwood. The email address for questions and submitting applications is in confidential mode.
Position Description for the Congregational Associate for the Unitarian Church of Underwood
Title: Congregational Associate
Reports to: Board president
Hours and schedule: 10 to 12 hours a week total; 9am to 1pm Sunday with remaining hours flexible
Date: June 3, 2019
Position Purpose
· General clerical work of a semi-routine nature to support the board, committees, and members in accomplishing the goals of the church
· Assist in organizing and carrying out the Sunday service and related activities
Core Attributes
· Adheres to a transparent set of personal and professional values that are congruent with Unitarian Universalist principles
· Respects confidentiality
· Reliable and timely
· Strong organizational skills and detail-oriented
· Excellent communication skills
Principle Responsibilities
· Prepare and distribute materials, hard copy and electronic (bulletin, rosters, reports)
· Assistance with maintenance of records, hard copy and electronic (managing, retrieving, filing)
· Answer and/or route inquiries in a timely manner
· Maintain schedule information (i.e. church use, meetings, volunteer duties)
· Assist with arranging logistics and details with Sunday speakers and communicate related information to appropriate parties
· Assist in facilitating Sunday services and related activities
· Attend quarterly meetings of the Sunday Service Coordinating Committee
· Other duties as assigned
Qualifications
Skills/Knowledge/Physical Requirements
· Proficient in oral and written skills
· Computer and multimedia knowledge and skills
· Ability to lift 30 pounds and access the podium
· Ability to move between two adjacent buildings
Experience
· Minimum of two years work experience with clerical experience preferred
· Working for or volunteering with a non-profit organization preferred
Education
· Minimum of high school graduate or GED
_______________________________________________________________________________________________________________________________
We Are Unitarian Universalists
This is a three minute video describing Unitarian Universalism. Please follow the link below to watch.
www.uua.org/beliefs/who-we-are/video
Sundays 411
Sundays are the busiest day of the week at our church. Sunday Services will start at 10:00 year-round. We are located at 206 North Main Street, Underwood, MN 56586. Be sure to check out our Sundays page, where you will find information about everything that happens on Sunday at the Unitarian Church of Underwood, including the speaker for each week. The link is at the top of this page.
Sunday Speakers At A Glance
April 7 Stefan Jonasson - Radical Moderation - Potluck Following Service
April 14 - Annual Meeting
April 21 - Bob Worner - The Day the Stone was Rolled Away
April 28 - Larry McDonough - Wellstone: A Rememberance
May 5 - Bob Worner - Acquainted with Grief
May 12 - Panel on Parenting
May 19 - Carole Mitchell - Change a Thought, Change Your Life
May 26 - Katy Olson - The End of Colonialism and the Rise of the Partnership Society
June 2 - Ellen Eastby - Spirituality: How Does it feel to You?
June 9 - Sam Miltich - Improvised Life: Exploring Mental Health and Creativity
June 16 - Rev. Roger Parks - Universal Christ, Universal Love
June 23 - Cedar Walters - There is no 'away': consumption and waste from global and local perspectives
June 30 - Dr. Hilda Koster - women and climate change
Sunday Morning Happenings
For more information about the following see our newsletter at www.ucofu.org/Newsletters/UCU%20September%2015%20Newsletter.pdf
With the exception of Mindfulness Sitting and Children's Religious Education, the following do not meet in June, July, and August:
Adult Religious Education - First Sunday of the month at 9:15 - Led by John Minge
Ancient Religions - Second Sunday of the month at 9:00 - led by Sandy Barnhouse
Mindfulness Sitting - Every Sunday at 9:15 in Suite 300 - Led by Stan Carignan
How To Read The Bible by Harvey Cox - Fourth Sunday of the month at 9:15 - Led by Bob Worner
Children's Religious Education - Every Sunday during the church service - all year
Newcomers Welcome!
We are glad you are here! When you attend the Unitarian Church of Underwood, please sit wherever you are comfortable in the sanctuary. We invite you to join us for treats during our social time in the lower level of the church following the service. Very often the conversation from the sanctuary continues during our social time. Although we also use that time to get to know one another and to simply visit.
There is more information available in the front entry about the Unitarian Church of Underwood and Unitarian Universalism. If you have any questions, you can ask JoAnn, our Administrative Consultant, or that day's greeters.
For more information about Sundays at our church, including the information about the speaker for each week's Sunday Service, you can click on the heading Sundays at the top of this page.
Dress at our church is always eclectic and informal. Dress comfortably and come as you are. If you are comfortable with jeans in the winter and shorts in the summer then feel free to wear them. We don't have air conditioning so you may want to take that into consideration during the hot summer months. Likewise, it can sometimes be cool in the winter. This is largely due to wanting to be as green as possible, as well as, keep our utility costs reasonable.
Assisted Listening Devices are available. There is a lift from the first floor to the sanctuary which is located on the second floor. Greeters will be glad to help make your visit comfortable and enjoyable in any way.
Unitarian Church of Underwood Affiliation
The Unitarian Church of Underwood is affiliated with the Unitarian Universalist Association and MidAmerica Region.