Sunday Morning Service and Gathering - In-person and On-line
We gather at 10 a.m. for Worship Service in-person and on-line.
For those participating at the church, we strongly encourage people to wear a MASK. If you are feeling unwell or have Covid-19 symptoms please join us on Zoom rather than come into the building.
For those of you on the UCU email list, Friday afternoon you will receive information for about our Sunday Service and the UCU Weekly news. If you would like to be added to our email list please send an email to ucofu@ucofu.org.
Zoom link:
bit.ly/UCUSunday
Meeting ID: 970 8841 4602
Passcode: 424091
Call this number to hear the service on your phone: +1 312 626 6799
When you join the Service by phone, please share your name with the congregation so we know who you are. In the Zoom meeting participants can only see your phone number unless we add your name.
Need Help with Zoom?
If you are a bit confused with all of this Zoom business, we have help for you. Click on the link below to learn about Zoom.
Zoom Help - www.ucofu.org/Zoom/Zoom.pdf
Sunday Morning Speakers
November 27
The Haudenosaunee Thanksgiving Address
Robin Wall Kimmerer, author of the book Braiding Sweetgrass was repeatedly told by Haudenosaunee (pronounced: who-DIN-oh-show-nee; also known as the
Iroquois) people that the words of the Thanksgiving Address are their gift to the world, and are meant to be shared.
December 4 Amy Beckman and Katy Olson
Circle Process
Katy and Amy will be presenting the circle process: what it is, how it works and how this process encourages every voice to be heard.
Circle Process for Vision, Mission and Covenant: The Circle Process is an indigenous method of coming to common ground around an issue. We at UCU are about to begin the work of redefining our vision for who we are and the work we want to do in the world. The mission that we write will be the road map for how we accomplish that vision. Our covenant will keep us accountable to one another and in a harmonious relationship as we commit to our community and its work in the world. We will be using the circle process so that every voice can be heard as we discover our vision, map our mission and commit to our covenant.
December 11 Rev. Phil Lund
Not Foolishly Romantic
We will share a recording.
Phillip Lund has almost twenty years experience serving congregations in the areas of faith formation and spiritual growth, first as a religious educator in Bloomington, Indiana, New York City, and Chicago, Illinois, and most recently as a congregational life consultant working for the MidAmerica Region of the Unitarian Universalist Association. He holds a Master of Divinity degree from Meadville Lombard Theological School in Chicago and a certificate in InterSpiritual Counseling from One Spirit Learning Alliance in New York. Phil has received additional training in The Art of Hosting Conversations That Matter and Discerning Your Call: Dependable Strengths® for Congregations at Luther Seminary in Saint Paul, Minnesota; he has completed the Mediation Skills Training Institute for Church Leaders sponsored by the Lombard Mennonite Peace Center, and is a Certified Practitioner of The MBTI® Step I™ and Step II™ Instruments. In 2013 Phil was named the Fahs Fellow for Innovation in Technology by the Fahs Collaborative at Meadville Lombard.
December 18 Community Celebration
Wonder
Except during the pandemic, the UCU community has shared a holiday celebration (during a
Sunday service) in mid to late December. Over the years, this has taken on many forms and themes. Some people have played tunes on the piano or violin; some have sung; some have shared a favorite poem or reading; sometimes the kids have put on a little play; and Budd Andrews' handmade puppet/dancing dolls usually made an appearance. Now that we are back, we can revive these traditions.
This year, the theme is Wonder. On December 18, our service will consist of members and friends sharing readings, music, etc. This will be followed by a potluck.
If you would like to share something during the service, please contact Betsy Wells or Diane Johnson. Cheers!
Saturday, December 24 at 4:30 p.m. Ellen Eastby
A Special Christmas Eve service: Rest from our Journeys
Join us in person or on Zoom for a special Christmas Eve service complete with special music, readings, a message and candles.
Ellen found Unitarian Universalism and became a member of the Unitarian Church of Underwood (UCU) in 2007. When she attended her first Sunday service at UCU she was overwhelmed with emotion and knew she had found her sacred space, beloved community, and a place where her soul felt at home.
Since joining UCU she somehow found herself on the board of directors for six years, three of those as president. She has chaired numerous committees and has served in many other roles. She found her "calling" as a UCU Celebrant. This has given her the awesome responsibility to officiate weddings, celebrations of life, child dedications and other sacred ceremonies. She found that she has a love and passion for speaking and is a regular speaker at UCU and has spoken at other churches as well.
In what little spare time she has, you can find her enjoying concerts and theater, crafting and quilting, hanging with friends, writing (she is a published author), communing with her dog, and desperately trying to complete the DIY projects that she seems to think she has time to do all the while putting her family as her number one priority.
December 25 TBD
Podcasts - Audio Recordings
Sunday Services are recorded most weeks. To see a list of all podcasts by the Unitarian Church of Underwood follow this link: soundcloud.com/user-927528278
Children's Religious Education - Family Ministry
Children are excited to once again see each other in church on Sunday mornings.
Sunday service begins at 10 a.m. Come early if you want to help welcome folks to church or help out with setting up the church for the day.
Children are invited to sit with their families for the first part of the Sunday Service. As part of the Service, children and adults are invited to share a Joy or a Concern with the congregation. Following Joys and Concerns the children ages pre-K to middle school may go to their classroom in the adjoining building for children's activities.
For families with very young children, know that you are welcome. You may choose to sit in the sanctuary with your child or, you may choose to move to the room just outside the sanctuary where young ones can move around a little, and adults can still hear what's happening in the Service.
.."No single belief includes us here, no disbelief excludes us..." All are welcome!
Adult Religious Education
Soul Matters Writing Group - Led by Ellen Eastby.
Meets on Zoom the 4th Wednesday of the month at 11 a.m.
This small group opportunity is a mix between a writers' group and our own UCU U Groups. Facilitated by Ellen Eastby, using a curriculum by Soul Matters Sharing Circle, this group will meet the fourth Wednesday, beginning October 27, at 11:00 a.m. via Zoom for about 2 hours each month. Prior to the meeting a packet will be given to each participant. The packet contains the month's theme, a reading, and some prompts so they can prepare a piece for the meeting. The meeting is formatted to allow for time for participants to share their piece if they wish. After all the writings have been read participants may share how a piece spoke to them. Please note, this is not the place to critique or make suggestions as to how an individual could improve their writing skills. This group is about listening and relating. While this may appeal more to writers, it is not just for those who consider themselves writers. This is for anyone who wishes for deeper spiritual discernment through writing.
If this is of interest to you or if you would like more information, please contact Ellen Eastby at ellen.eastby@ucofu.org.
UU Wellspring - Sources
UU Wellspring is a 10-month spiritual deepening course for Unitarian Universalists. There are over a dozen enthusiastic participants. Co-facilitators are Dawn Jordan and Katy Olson. All sessions will be on Zoom. The group meets Thursday afternoons, every other week, for two hours. UU Wellspring is a program affiliated with the Unitarian Universalist Association.
Music
Music is very important to us here at the Unitarian Chruch of Underwood. Each week there are different musicians playing a variety of instruments and a variety of music. We listen to or have listened to a trombone, Hurdy Gurdey, flute, violin, harp, piano, guitar, and much more. We hear blues, pop, numbers from musicals, gospel,and a grand waltz on occasion. We are very fortunate that we have the caliber of fine muscians come to play at the church for Sunday Service. They play the "special music" which consists of the prelude, offering, and postlude.
We have two great pianists at church who take turns at playing everyweek. Susan Groff is a talented musician. She origianlly played by ear and had to learn how to read music. She makes the piano come alive. Mary Worner is our other regular pianist. She is currently studying with Rebecca Davis. Mary seems to enjoy classical music and often brings the room to absolute silence with her playing.
We occasionally have a musician or musicians come to do a musical program for the whole service. Patty Kakac, Rebecca Davis, Anthony Miltich, Joe DiMasi, and the MState Voice Ensemble are just a few of the talented musicians to perform at the church.
Rev. Stefan Jonassen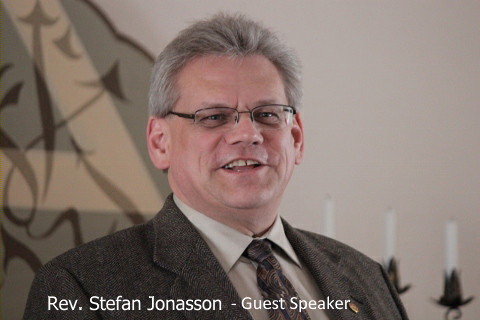 Reverend Stefan Jonasson is a Unitarian Universalist minister from Winnipeg, Manitoba, Canada and a long-time friend of the Unitarian Church of Underwood. We are fortunate to have him speak during Sunday Service at UCU about twice a year. This is the link to the podcast of his most recent sermon: soundcloud.com/user-927528278/radical-moderation-rev-stefan-jonasson-april-7-2019
Power Point - There is No Away - Waking Up to Consumption and Waste