Welcome!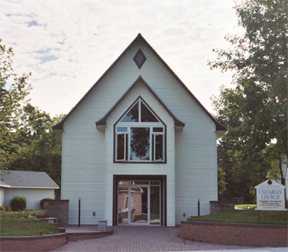 The Unitarian church of Underwood is a welcoming community of diverse people where our celebration of life and common search for meaning bind us together. - Unitarian Church of Underwood Mission Statement
We are a welcoming congregation that is a spiritual home to all people regardless of race, color, gender, affectional or sexual orientation, gender identity or expression, age, national origin, socioeconomic status, physical or mental ability.
Seeking Educator of Children and Youth
Hours: Part time, flexible
Location: Unitarian Church of Underwood, Underwood, MN (and remote)
Description: The Children and Youth Educator will work a largely flexible 15-hour week (on-site and remote) to develop and oversee a vibrant faith formation program.
Benefits: Salary commensurate with experience. Paid professional development, vacation, and sick leave.
To apply: Complete the on-line application form and submit. forms.gle/zPABxggjCGe1NBAE9
Send a letter of introduction and a resume to education.job@ucofu.org. Applications will be accepted until the position is filled. BIPOC and LGBTQIA+ people are encouraged to apply.
More information: bit.ly/educator-desc-ucu
Please join us Sundays for Services, Community and Connection! 10 a.m. in church AND on Zoom.
We look forward to seeing you each week whether at the church or on-line.
Come early to chat and connect.
When joining us on Zoom: you can arrive starting at 9:45 a.m. Arriving early will give you time to check your sound and internet connection.
For those of you on the UCU email list, Friday afternoon you will receive information for these virtual services, about the week's speaker and the UCU Weekly news. If you would like to be added to our email list please send an email request to ucofu@ucofu.org.
Zoom link:
bit.ly/UCUSunday
Meeting ID: 970 8841 4602
Passcode: 424091
Call this number to hear the service on your phone: +1 312 626 6799
When you join the Service by phone, please share your name with the congregation so we know who you are. In the Zoom meeting participants can only see your phone number unless we add your name.
Newcomers Welcome!
We are glad you are here! When you attend the Unitarian Church of Underwood in-person or on Zoom, you will find a warm and welcoming community.

We invite you to join us for conversation during our social time following the service. Very often the conversation from the sanctuary continues during our social time. Although we also use that time to get to know one another and to simply visit.
For more information about Sundays at our church, including the information about the speaker for each week's Sunday Service, you can click on the heading Sundays at the top of this page.
Dress at our church is always eclectic and informal. Dress comfortably and come as you are. If you are comfortable with jeans in the winter and shorts in the summer then feel free to wear them.
Sunday Speakers At A Glance
September 4 Bob Worner The Whisper
September 11 Bahati Numbi "They are more than just words" discussing micro-aggressions and how to avoid them
September 18 Cameron Young, MidAmerica UUA sermon series Adaptive Ministry
September 25 Chris Schuelke Conflicts in Near-by and Local History -inside Chris Schuelke's World
Need Help with Zoom?
If you are a bit confused with all of this Zoom business, we have help for you. Click on the link below to learn about Zoom.
Zoom Help - www.ucofu.org/Zoom/Zoom.pdf
Giving to Unitarian Church of Underwood
Give to Unitarian Church of Underwood by mail:
Mail a check to: UCU, PO Box 58, Underwood, MN 56586 Thank you!
Give to Unitarian Church of Underwood electronically using Givelify.com:
How?
1. Click here giv.li/mog475 and follow the steps to give.
2. Using your phone: download the free Givelify mobile giving app from the Apple store or Google Play store.
LEARN MORE: Watch the video: How to Make Your First Donation with Givelify youtu.be/8RVHos0lvi4
Thank you for your generosity!
We Are Unitarian Universalists
This is a three minute video describing Unitarian Universalism. Please follow the link below to watch.
www.uua.org/beliefs/who-we-are/video
Unitarian Church of Underwood Affiliation
The Unitarian Church of Underwood is affiliated with the Unitarian Universalist Association and MidAmerica Region.