Welcome!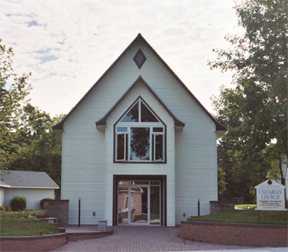 The Unitarian church of Underwood is a welcoming community of diverse people where our celebration of life and common search for meaning bind us together. - Unitarian Church of Underwood Mission Statement
We are a welcoming congregation that is a spiritual home to all people regardless of race, color, gender, affectional or sexual orientation, gender identity or expression, age, national origin, socioeconomic status, physical or mental ability.
Please join us Sundays for Services, Community and Connection! 10 a.m. in church AND on Zoom.
We look forward to seeing you each week whether at the church or on-line.
Come early to chat and connect.
When joining us on Zoom: you can arrive starting at 9:45 a.m. Arriving early will give you time to check your sound and internet connection.
For those of you on the UCU email list, Friday afternoon you will receive information for these virtual services, about the week's speaker and the UCU Weekly news. If you would like to be added to our email list please send an email request to ucofu@ucofu.org.
Zoom link:
bit.ly/UCUSunday
Meeting ID: 970 8841 4602
Passcode: 424091
Call this number to hear the service on your phone: +1 312 626 6799
When you join the Service by phone, please share your name with the congregation so we know who you are. In the Zoom meeting participants can only see your phone number unless we add your name.
Newcomers Welcome!
We are glad you are here! When you attend the Unitarian Church of Underwood in-person or on Zoom, you will find a warm and welcoming community. People of all ages are welcome. Families begin the Sunday Service together, and then the children leave to attend their religious education class.

We invite you to join us for conversation during our social time following the service. Very often the conversation from the sanctuary continues during our social time. Although we also use that time to get to know one another and to simply visit.
Dress at our church is always eclectic and informal. Dress comfortably and come as you are. If you are comfortable with jeans in the winter and shorts in the summer then feel free to wear them.
Sunday Speakers
SEPTEMBER IS WELCOME MONTH!
You're invited to attend one or more of the Sunday services this month and learn more about our liberal religious congregation.
Sept. 3
It's Good To Be Home
Bob Worner
Bob Worner speaks regularly at UCU, and he focuses on community, love and the seven Unitarian Universalist Principles we hold in common.
Kids Theme: belonging through the interconnection of water
Sept. 10
From the Youngest to the Oldest: Strength of the UCU Web.
An intergenerational service experiencing and celebrating the interconnected web of our community
Kids play an important part in our congregation. Come find out more about the kids religious education program. All are welcome. Come as you are. Come as you can.
Kids Theme: social belonging and back to school
Sept. 17
The Spiritual Discipline of Love
Rev. Phil Lund shares a recorded sermon with us on the big screen in the sanctuary and on Zoom
When our 3rd principle says, "encouragement to spiritual growth in our congregations," what does it mean? Does it apply only to individuals, or to the entire congregation? If Unitarian Universalism is to remain relevant, perhaps it's time for us to embrace the spiritual discipline of love and move from a spirituality of "me" to one of "we."
3rd UU Principle: Acceptance of one another and encouragement to spiritual growth in our congregations;
Kids Theme: Welcoming Newcomers
Phillip Lund has twenty years experience serving congregations in the areas of faith formation and spiritual growth, first as a religious educator in Bloomington, Indiana, New York City, and Chicago, Illinois, and most recently as a congregational life consultant working for the MidAmerica Region of the Unitarian Universalist Association. Phil has received additional training in The Art of Hosting Conversations That Matter and Discerning Your Call: Dependable Strengths® for Congregations at Luther Seminary in Saint Paul, Minnesota; he has completed the Mediation Skills Training Institute for Church Leaders sponsored by the Lombard Mennonite Peace Center
Sept. 24
Resolve through Notes and Letters
Alison F and Marianne Bryan
Sharing incidents of hope and integrity through piano composition and letters.
Kids Theme: the power of music in community
Marianne Bryan received a doctorate in piano performance from the University of Minnesota. She taught at the University of St. Thomas for 20 years. She now lives with her kitty in an idyllic tiny house on Swan Lake in Otter Tail County.
Alison F is a long time member of the congregation and a maker of connections.
Giving to Unitarian Church of Underwood
Give to Unitarian Church of Underwood by mail:
Mail a check to: UCU, PO Box 58, Underwood, MN 56586 Thank you!
Give to Unitarian Church of Underwood electronically using Givelify.com:
How?
1. Click here giv.li/mog475 and follow the steps to give.
2. Using your phone: download the free Givelify mobile giving app from the Apple store or Google Play store.
LEARN MORE: Watch the video: How to Make Your First Donation with Givelify youtu.be/8RVHos0lvi4
Thank you for your generosity!
We Are Unitarian Universalists
This is a three minute video describing Unitarian Universalism. Please follow the link below to watch.
www.uua.org/beliefs/who-we-are/video
Unitarian Church of Underwood Affiliation
The Unitarian Church of Underwood is a member of the Unitarian Universalist Association and MidAmerica Region.